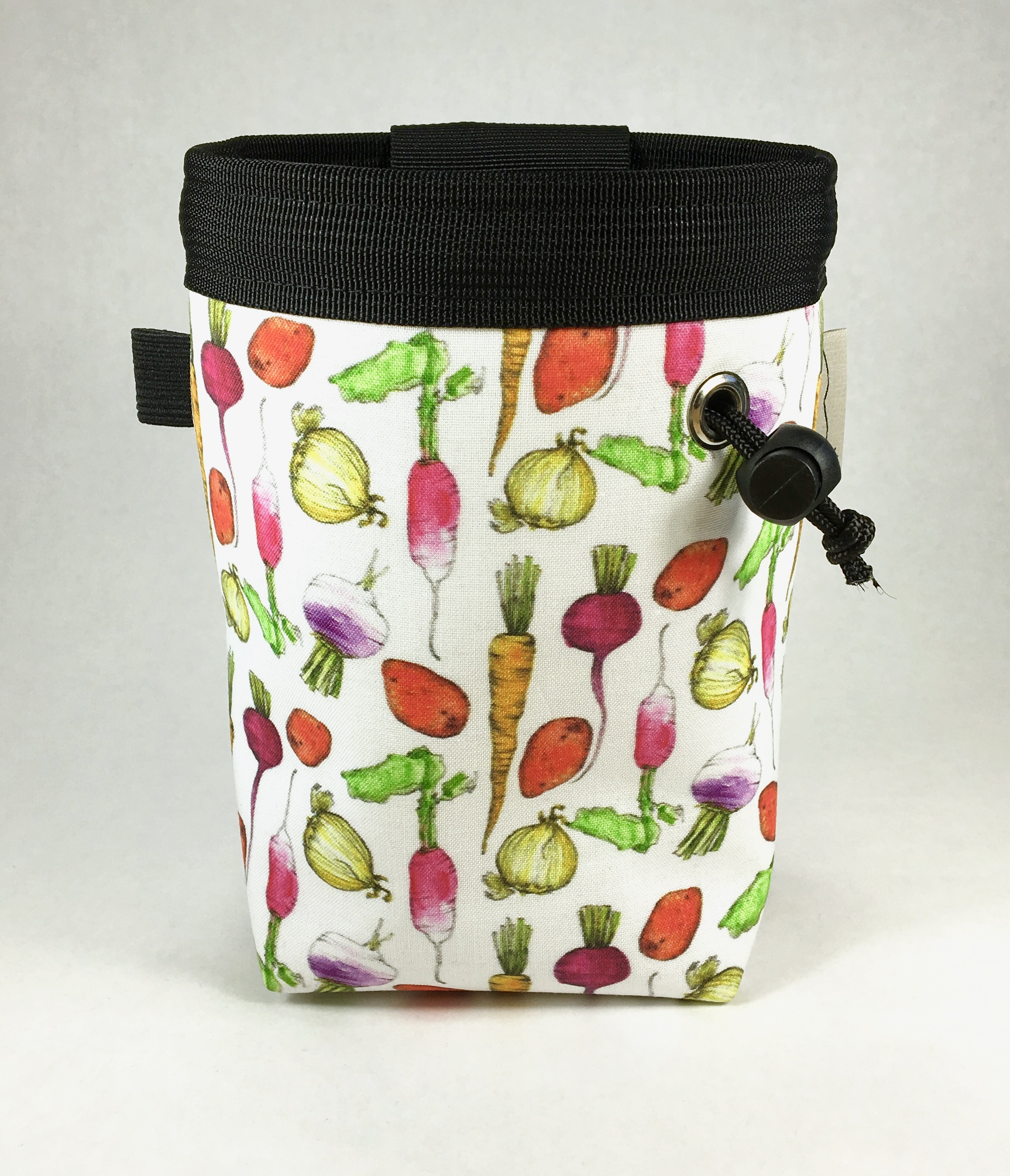 Chalk bags
Root Veggies Chalk Bag
**International customers, please see important customs information below**
FEATURES:
Designer cotton fabric front panel
Durable 1000 denier nylon canvas on the back panel and behind the front-panel fabric for structure
3/4 inch elastic brush loop
Stretchy fabric for top closure
2mm cord drawstring for smooth open/close action
Plastic spring loaded cord stop to keep bag closed when not in use
2" nylon webbing folded over top of bag to keep it open when in use
Fleece lining for better chalk distribution on hands
2" nylon webbing belt loop
DIMENSIONS:
6.5" tall
3.75" wide side to side
3.25" wide front to back
circumference ~13"
Pattern placement may differ from that of the bag pictured.
Please choose a way to attach the bag to yourself or your harness. If you already have a belt, or if you prefer to attach the bag to your harness with a carabiner (not included), choose "no belt". The 3/4" polypropylene webbing belts have a side release buckle and a slide to hold any extra tail. They are fully adjustable up to 40" and are suitable for adults or children.
Knox Mtn Bags are made in my off-grid home using solar-generated electricity.
INTERNATIONAL BUYERS:
Please note that some countries may charge customs fees, duties, and/or taxes on items being imported from a foreign country. These fees are not included in the price of the item or the shipping cost and are the responsibility of the addressee (including gift recipients) to pay. International orders may take between 2 and 12 weeks for delivery, depending on how the item moves through the customs inspection process. Please do not mark your item as a gift as this will prevent me from providing the proper forms for the customs agents that will be inspecting the package. Marking an international order as a gift will not change the fact that fees may be due (depending on the laws in your country), but it may cause your package to be delayed. Please check with your country's customs department to learn if your order will be charged a fee before it can be delivered.